IS CHIROPRACTIC CARE SAFE FOR PREGNANT WOMEN?

Yes, absolutely! Dr. Dan is fully qualified in pre/postnatal chiropractic care for pregnant patients and has undergone additional training through the International Chiropractic Pediatric Association (ICPA). He has dedicated years to this specialization and continues to increase his knowledge and expertise in this field.
HOW CAN CHIROPRACTIC CARE HELP WITH MY PREGNANCY AND MY BABY?
During pregnancy, there are several physiological and endocrinological changes that occur to prepare the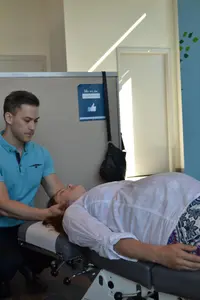 environment for the developing baby. The spine and pelvis undergo many changes and adaptations to compensate for the growing baby. The following changes could result in a misalignment: protruding abdomen and increased back curvature, pelvic changes, postural abnormalities. Chiropractic care throughout pregnancy helps to establish pelvic balance and alignment.
Seeking chiropractic care early in pregnancy is a safe and effective. Remember that the nervous system is the master communication system for the entire body - keeping the spine aligned helps the entire body experience less low back pain, sciatica, pelvic pain, pubic symphysis pain, neck pain, headaches/migraines, and mid back pain.
WHAT IS THE WEBSTER TECHNIQUE?
The late Dr. Larry Webster, Founder of the ICPA, developed a specific sacral analysis and diversified adjustment for all weight-bearing individuals. Dr. Dan has undergone specific training and is proficient in the Webster technique.
WHEN SHOULD I COME IN?
The sooner the better! Since chiropractic care works to reduce stress on the nervous system and spine, it would be ideal for you to begin even before you decide to become pregnant. While that is ideal, receiving chiropractic care anywhere along the way will still be of much benefit.